ALLY OF THE F.L.E.X
<< Back
Published on Thursday, 26 April 2018 12:37
HoN big daddy, superior give away avatars and items. Only completely spend
Gold Coin
during
the activity period. The more you spending, it's more worth!!
(Including spending Gold Coin in F.L.E.X. event !!)
Promotion starts
: Thursday 26 Apr 2561, after the server opened
Promotion Ends
: Thursday 26 May 2561, at 12.00
Claim rewards
:

within 24 hours after the conditions completed




1. Spending
GOLDCOIN
in the activity period.
Special!
Including spending
Gold Coin in F.L.E.X. event
2. Rewards are divided into 3 tiers:
350GC, 750GC, 1050GC
3. Cumulative Gold Coin spending. Once you get the reward from 350GC spending, spend more only 400GC to get the 750GC reward
4. You can claim only 3 rewards (350GC, 750GC and 1,050GC respectively

per 1 account
5. After you claimed the rewards and completed the conditions, you will get them within 24 hours
6. HoN team reserves the right to change details and prizes without prior notice.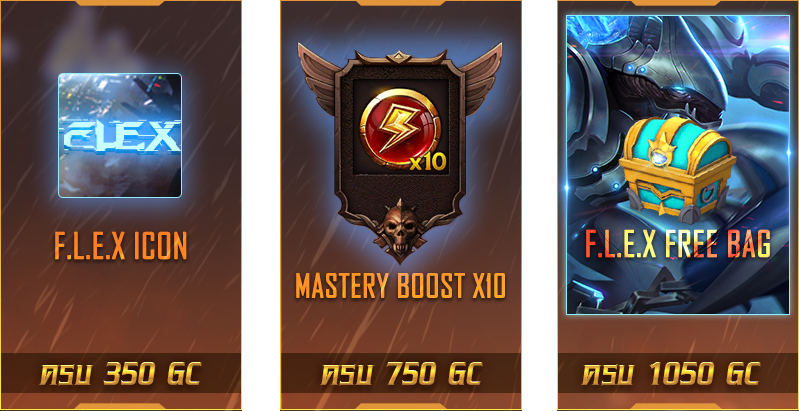 F.L.E.X. Free Bag Information
Once you open grabbag, get free 1 random avatar
| | |
| --- | --- |
| Avatars | Avatars |
| Ascension Armadon | Savior Rally |
| Hack | Savior Solstice |
| Ion | Gory Vanguard |
| Draco | Kannibal |
| Headless Horseman Pyromancer | Scourge Trooper |
| Savior Hammerstorm | Blood Fiend |
| Savior Pebbles | Daemon Dragoon |
| Savior Legionnaire | Shaytan |
| Savior Predator | Khamsin |
| Savior Emerald Warden | Submarine Kraken |
| Chiprel Strike Squad | Siege Gauntlet |


Comments